PregTool 1.0 (FREE!)
Accurate, profressional obstetric pregnancy calculator used by real docters and nurses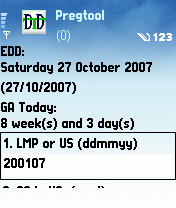 Features:
See the extensive Help option inside the program for full details.
Works on almost ALL java-enabled mobile phones/PDAs. Download directly to phone: Open your phone's WAP browser and type/goto WAP.CLEAREVO.COM then choose and download, the installation would start automatically over the air.
Download to PC:
Please help donate for this free software! Please click here
Download Source Code (BSD License) (Please note that the source code was written when I was just starting to learn programming - it might be low-standard in quality and/or convention.)
Special Thanks
Special thanks to Dr. Selvio Simon for his ideas, suggestions, medical details and testing for making Pregtool.
blog comments powered by

Disqus