ParkedAid 1.4 (FREE!)
Notes your parking location picture and calculates parking time!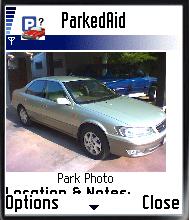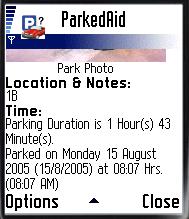 For the photo feature, you need a java-enabled mobile phone that supports picture capture such as most Nokia Series 40 or S60 camera phones, SonyEricsson, Motorola, etc.
If your phone doesn't have the photo feature, ParkedAid would save only the location note and parking duration.
Update 041208: Thanks to bug report by Jonathan Kung. Fixed "Help" command blocking the snap command in S40 phones.
Download directly to phone:
Open your phone's WAP browser and type/goto wap.ClearEvo.com then choose and download, the installation would start automatically over the air.
Download to PC:
Please help donate for this free software! Please click here
Download (Install via your phone's PC-Suite J2ME software/game installer or send the ".jar" file via Bluetooth to phone…)
Download Source Code (BSD License)
blog comments powered by

Disqus