DaysToDay 2.2 (FREE!)
Plan man-days for future events, count days or search dates in seconds. New! Spanish Version by Dr. Gilberto González!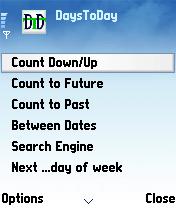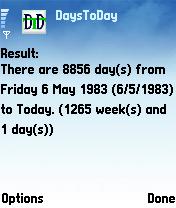 Download to PC:
Please help donate for this free software! Please click here
Download English Version Download Spanish Version
Download Source Code (BSD License) (Please note that the source code was written when I was just starting to learn programming - it might be low-standard in quality and/or convention.)
Features:
10 Function Professional Calendar Counting!
10 Function Professional calendar counting!
Works on almost ALL java-enabled mobile phones/PDAs.
New in this version: Calendar count results are shown in a new and easy-to-read page. Download directly to phone: Open your phone's WAP browser and type/goto wap.ClearEvo.com then choose and download, the installation would start automatically over the air.
Special Thanks
Special thanks to Mathias Gundlach for his great ideas, suggestions and the very nice program icon he made for DaysToDay.
Special thanks to Dr. Gilberto González for his ideas, very detailed testing and lots of translation for the Spanish version.
blog comments powered by

Disqus