How to use your Samsung Jet to change Powerpoint slides on computer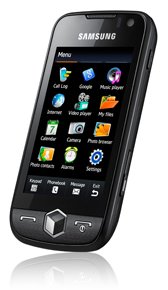 A while ago I got a Samsung Jet (aka S8000) for mobile network testing, I was also curious about its java-blueotooth features. After playing with it for a while, I found out that it worked well with the touch-screen version of WMouseXP (a powerpoint/presentation remote-control software) mobile app, so here's how to set it up:
Phone Setup
The touch-screen enabled mobile version is needed, this is available on the mobile "wap" site:
Open the browser ("Internet" icon) in your Samsung Jet, go to "wap.clearevo.com"

Choose WMouseXP > Download

Open phone's Bluetooth setting icon (its page shows "Tap here to turn Bluetooth on" - tap on it).

Start the WMouseXP mobile app, if all things went correctly, you'd see "Awaiting PC Side" shown on top of the screen - this means were're ready and waiting for the computer/notebook to connect to us.
Computer Setup
Download and install the WMouseXP installer.

Makesure your computer/notebook's Bluetooth is started and ready. (if your Notebook has internal Bluetooth - start it using its assigned Fn+ bluetooth button or hardware bluetooth/wireless button)

Start WMouseXP (double click the icon on your Desktop).

Press the "Connect" button, wait until it finds your phone's WMouseXP and connects to it, if all went well, it would show a "Wireless Connection Active" balloon from the system tray.
Use the phone's on-screen joystick to move your computer's mouse cursor! Click the middle of the joystick to click things on your computer, try double-click some things on computer from phone. Try open a Powerpoint Presentation, tap the top-right command icon to start the presentation, tap the joystick middle button to go to the next step/slide, press the top-middle command icon to go back, press the top-left command icon to exit.
Note: the WMouseXP Computer program has a "Step 1" button to send and install the mobile app to phone - we omit this because it would send the "old" mobile app version which doesn't support touch-screen command pressing, it was for phones with numeric-pads, that's why we installed the new touch-screen enabled version from the "wap" side directly on the phone instead.
For more info, please visit WMouseXP Bluetooth Presentation Remote-Control Software.
blog comments powered by

Disqus
This ClearEvo.com blog is powered by Debian GNU/Linux, running lighttpd, generated using jekyll on Ubuntu.