AgilePresenter Mobile WIFI Presenter Remote
Use this software to Remote-Control Powerpoint/Presentations from WIFI-enabled Phones!
Download AgilePresenter - FREE SOFTWARE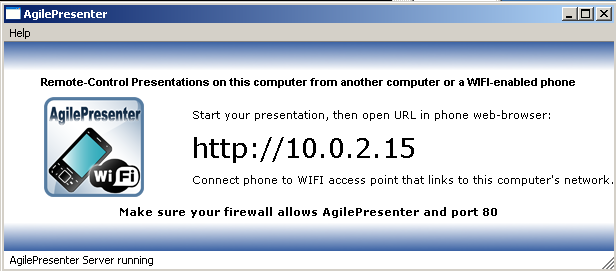 Please help donate for this free software! Please click here**
Setup & usage
Download the latest release from https://github.com/ykasidit/AgilePresenter/archive/master.zip

Extract the zip/archive to C:\AgilePresenter or somewhere similar.

Double-click START_AGILE_PRESENTER.bat - if a firewall asks about permission, unblock and allow its port to be accessed from the local network.

Connect phone to WIFI on the same network with your computer.

Start your Powerpoint/Presentation on computer.

Open you're phone's browser to the specified URL in AgilePresenter running on your computer… If there are no firewall problems, the page would load, you'd see a few buttons and the current screenshot of your PC - click the screenshot the simulate a click on computer making the presentation go next. Remote control your presentation from phone!
NOTE: If nothing shows up on phone - Make sure your firewall is not blocking port 80 - Try using another URL by entering the http://<IP of your computer>: - Right-click your currently connected connection > Status > Support and use that IP. - Or - Go to Start > Run … > cmd.exe > ipconfig - read for the IP of your WIFI connection - mostly in the form of 192.168.1.xx
Please help donate for this free software! Please click here**
Requirements
A WIFI-Enabled phone + a Windows XP/7 computer/notebook + WIFI access point: connecting the phone and the computer.
Source code
Please visit http://github.com/ykasidit/AgilePresenter
Please email <support[AT]clearevo.com> About
---
AgilePresenter was developed by Kasidit Yusuf. A lot of the code is based on a Qt C++ example. Please visit http://www.clearevo.com.
Special thanks
Thanks to Stuart Hanlon for all his great ideas and effort contributed to this project.
blog comments powered by