Bluetooth GPS Receiver device for Android - EcoDroidGPS
Use the EcoDroidGPS Bluetooth GPS Receiver kit in your car to greatly improve your GPS positioning accuracy in Android phones and tablets. Only 85 USD - one of the best in value for 1.4-2.x meter accuracy in the market today!
EcoDroidGPS Bluetooth GPS Receiver device kit:
EcoDroidGPS is powered by the provided car cigarette miro-USB charger provided in the kit (or any USB power source) so it does not use/contain any batteries.
Buy it now!
Order a ready-to-use and manually tested EcoDroidGPS kit for only 85 USD + 10 USD Worldwide Air-Mail shipping cost Click on the PayPal 'Add to Cart' button below to order:
The kit includes:
A compatible USB GPS device powered by the advanced ublox UBX-M8030 series GNSS chips.
The EcoDroidGPS unit (with a USB Bluetooth plugged-in)
A compatible car-charger power supply with a micro-usb to plug into the EcoDroidGPS box and also an extra USB port that can be used to charge your phone if required.
We'll assemble the parts, test it and send you your EcoDroidGPS Bluetooth GPS unit + a Car Charger power supply device via Air-mail - takes about 1-2 weeks to USA for example.
30-Day money-back guarantee! If EcoDroidGPS doesn't work for your target Android phones or tablets, you can email to [email protected] to discuss a solution or a refund - just mail the EcoDroidGPS unit back to us and we can process a refund.
Accuracy
It is quite common to get 1.4 meter accuracy in day-to-day usage - below is an example screenshot: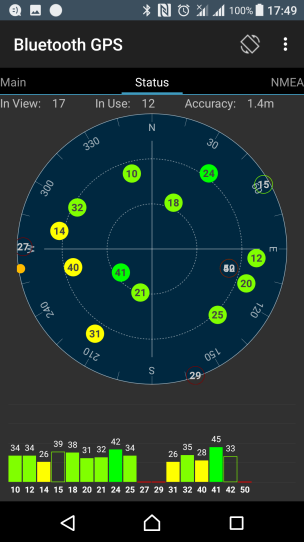 EcoDroidGPS delivers accurate positioning from the powerful 72-channel Ublox UBX-M8030 series GNSS chip featuring concurrent reception of GPS + Glonass or GPS + BeiDou models (Galileo was advertised but still needs further verification from the real USB GPS device we're using) and Industry leading -167 dBm navigation sensitivity.
Similar/alternative to the popular HOLUX, Garmin Bluetooth GPS but EcoDroidGPS is powered by a car-charger, has an external antenna and can handle up to 6 connected phones simultaneously!
Better GPS accuracy
EcoDroidGPS provides accurate GPS data from a real USB GPS (which is normally better than phone's internal A-GPS), powered by the advanced
ublox M8030 GNSS chips
.
Multiple connected devices
Unlike most Bluetooth GPS Receivers which cannot handle more than one connected phone at a time, we've tested up to 6 connected phones to one EcoDroidGPS device simultaneously and it still works well (theoretical max is 7 phones).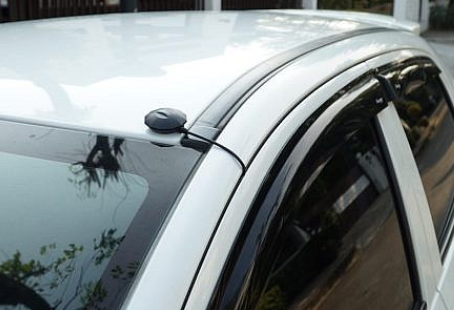 Magnet GPS Antenna
Although EcoDroidGPS already works well with the antenna placed on your car's dashboard, but for even better GPS positioning, you can also mount the external antenna on your car roof (when not raining/snowing - not waterproof!)
See how EcoDroidGPS improved a Samsung A9 Pro positioning plot on map accuracy/stability when doing 4G/LTE DriveTests, notice the reduced shaking/swerving of the GPS position marks in the drive route:
| Phone's internal GPS | Phone using EcoDroidGPS |
| --- | --- |
| | |
Ideal for improving GPS accuracy and GPS position fixing in car navigation apps like Google Maps or professional GPS map plotting apps like:
GPS Plotting in Android DriveTest apps (mobile network radio testing - like G-MoN, G-NetTrack, AZENQOS, etc)
GPS Geographical data logging Android apps
See how EcoDroidGPS improved a Samsung S8 GPS accuracy from 7.59 meters to 1.85 meters (lower is better) when used in a rainy day:
| Samsung S8 Internal GPS | Samsung S8 using EcoDroidGPS |
| --- | --- |
| | |
Easy Setup
See below video showing the Android setup for EcoDroidGPS and using with Google Maps and G-NetTrack (location/geo logging with radio measurements) in below video:
EcoDroidGPS is powered by a micro-usb port like most Android phones - we provide a car charger in the kit for typical in-car usage, but if your target usage is not in cars, you can also use it with most existing micro-usb phone chargers (preferably Tablet chargers) or power banks.
Below video clip shows the EcoDroidGPS's Bluetooth dongle's LED light (on the right) blinking continuously while connected to an Android phone. Above it is the USB cable of the USB GPS device. A micro-usb power cable connects it to the car-charger. All of these components are provided in the EcoDroidGPS kit.
Our own advanced Linux powered parrarel processing + multicast software inside each EcoDroidGPS unit allows up to 7 concurrent combined Android phone/tablets to receive the same GPS data concurrently and without any one device slowing other devices. All devices would get exactly the same location data.
Ideal for professional GPS map plot requirements for mobile network LTE/WCDMA/GSM DriveTests, Google Maps navigation on Android mobile phones and tablets - multiple, concurrently!
Android setup instructions
Use with Android 'Bluetooth GPS' app by 'GG MobLab':
Follow it's on screen instructions, after you already set it as 'Mock locations provider' in 'Developer Options' which it would open for you, paired and connected to the Bluetooth GPS device, make sure in the 'Main' tab: 'Lat/Lon' shows and the 'Date/time' is constantly updating and in the 'Status' tab, the measurements should be moving constantly and the 'Accuracy' should be preferably less than '5m' before using your target app (Google Maps or other Android GPS logging/tracking apps).
Also make sure you go to this app's 'settings' in the three-dot options menu and check/enable 'Reconnect'.
Although we're not using the phone's internal A-GPS in this Bluetooth GPS to Android 'mock locations' mode, but we must still make sure that 'location' services is turned on otherwise apps like Google Maps are known to have 'no location update' issues:

Go to Android phone's app list > Settings > Location
Make sure it is turned 'On'.
Make sure the 'Mode' is set to 'High accuracy'.
It would be nice to recieve your suggestions, questions and comments, please kindly email to <support[AT]clearevo.com>.