Use your Nokia to change PowerPoint Presentation Slides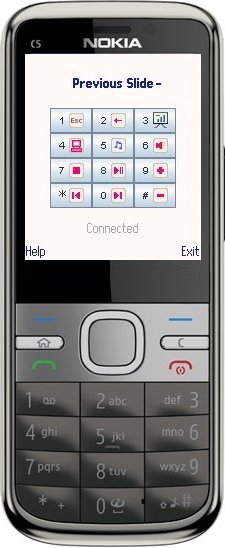 You can turn your Nokia into a Wireless Presenter Remote - use it to control PowerPoint in front of class or on stage. The magically wireless control is done by using your phone's and notebook's Bluetooth technology to connect together.
Just follow the 3 steps below:
1. On your Nokia - install the WMouseXP mobile app - open phone's web browser to http://wap.clearevo.com as in screenshots below: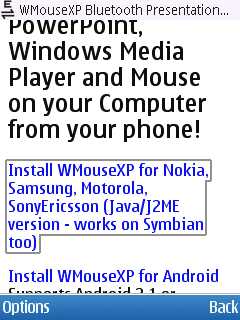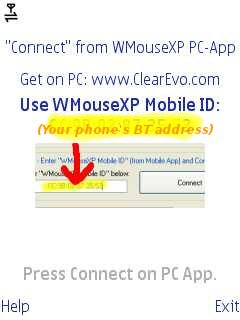 2. Make sure your Nokia's Bluetooth is paired with your Computer - you can do this by a right click on the Bluetooth icon in system tray and select "Add a new Bluetooth Device".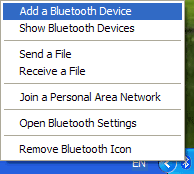 3. Click here to Download WMouseXP "PC App" - install on computer, start it. Enter the "WMouseXP Mobile ID" as shown on phone's WMouseXP App, press the "Connect" button. Done.

After they're connected, open a PowerPoint presentaion on your computer. Now, control from your Nokia: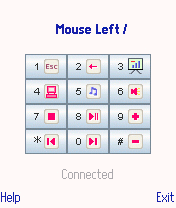 Press 3 (if touch-sreen: touch the presentation icon at top-right) on the phone to start the presentation.
Click/press the phone's joystick (middle button) to change to the next step/slide.
Press 2 for the previous slide.
Works on most Nokia Series 40 (like Nokia C3) and also Symbian, E-Series, N-Series.
It just works? >>> Upgrade to full version for just 4.95 US$ Click here to Buy a serial-number to register/enable the Full Version.
Free-Trial Limitation: The trial PC Side would disconnect from Mobile Side after 7 minutes. Please upgrade to Full Version to have unlimited connection time! (Note: After trial-limit disconnection by PC, you can press "Connect" from PC again - no expiry.)
blog comments powered by

Disqus
This ClearEvo.com blog is powered by Debian GNU/Linux, running lighttpd, generated using jekyll on Ubuntu.