Ookjor mobile bluetooth camera software
Ookjor shows S60 3rd and 5th edition phones' cameras and screens live on the computer - for teaching, demonstrating products via the live-camera, demonstrating S60 phone usage and S60 software - wirelessly via Bluetooth.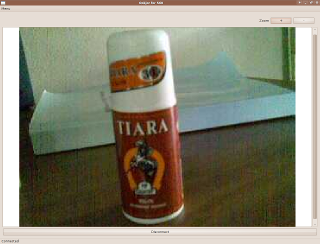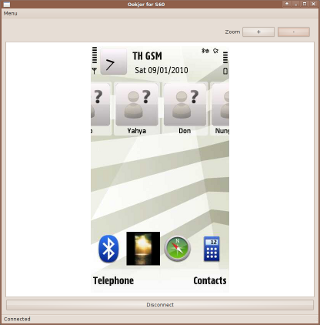 Ookjor is Free Software. Released under the GNU GPL.
Make your donation for this free software
See Ookjor in action - See more Ookjor screenshots
You can connect your computer or notebook to a projector (or big LCD TVs that have s-video or HDMI ports) in a meeting room, class room, event hall and then:
Use mobile phone's camera to demonstrate various things live
(Ookjor would start the phone-camera streaming after connected) - Show and demonstrate new products and services (in stores, shopping-malls, event halls, etc) - Show what you write or the diagrams you draw on paper - Show how to use equipment - Teach how to do scientific experiments - Show how to cook - Show the person speaking
Show phone's screen live on the computer:
(After Ookjor is connected, press "Done" on phone to switch to live mobile-screen streaming instead of live camera) - Showcase and demonstrate how to use mobile phones (at events, phone stores, etc.) - Showcase and demonstrate how to use mobile software applications and games.
Requirements
A (Nokia) S60 3rd/5th edition phone (Symbian OS 9.0 or newer). See http://forum.nokia.com/devices and filter for S60 3rd or 5th.
A computer/notebook running GNU/Linux OS with Bluetooth hardware and BlueZ dirver. Tested on Ubuntu 9.10 - please try it: www.Ubuntu.com - a great and free alternative to Microsoft Windows. There are no plans for making a Windows version of Ookjor at the moment.
Qt4 ( Go to Applications > Accessories > Terminal and type or copy-paste the following then press enter: sudo apt-get install libqtcore4 libqtgui4 )
How to use
Extract the zip/archive file (right-click, "Extract here"), select the "Ookjor.sh" file right-click > properties > permissions > make sure the "allow to execute" checkbox is checked. (or in terminal: chmod +x Ookjor.sh)

Double click the "Ookjor.sh" file, select "Run", or in terminal: ./Ookjor.sh in this directory.

You must first install (press "Send installer to phone" button in step 1 to send and install on phone) and start the mobile Ookjor program on your phone. (It would be in Menu > Applications > "Install. apps." or "My own", etc)

If send fails because your system doesn't have "bluetooth-sendto" available, send the installer (OokjorS603rdAnd5th.sisx, in the folder bin_src/OokjorS60/sis) to phone manually using other methods.

When mobile phone Ookjor shows - Press "Connect" on Computer - then on this computer Ookjor program: Press "Connect to Mobile", select your phone and the mobile screen or camera should start showing in a few seconds.
Ookjor would start the live camera view display on the computer, ready to use! Press the Zoom + or - buttons in the computer Ookjor to adjust.

If you want to show mobile screen instead of the camera view, select "Done" on mobile while connected.
License
Ookjor is Free Software. Released under the GNU GPL. Developed by Kasidit Yusuf.
Get involved: issues, development, wiki, features and source code
Please visit: the Ookjor page on github.
Helping Ookjor
The easiest way is to make your donation for this free software.
You can help blog about how you use Ookjor to benefit you and your organization.
Simply tell others about it!
If you're a programmer and you'd like to contribute, please kindly contact me: <support[AT]clearevo.com>.
blog comments powered by

Disqus
This ClearEvo.com website is powered by Debian GNU/Linux, running lighttpd, generated using nanoc on Ubuntu.